Business Conduct, Ethics and Compliance
GGC is aware that ethical and responsible business operations in compliance with laws, rules, regulations and operational standards as well as monitoring and accountability can prevent potential impact on business operations. Accordingly, GGC strives to comply with the Business Code of Conduct and the Compliance Policy with fairness, transparency and accountability in order to create confidence for shareholders and investors as well as all stakeholder groups, which will lead to mobilizing the economy, society and environment in a sustainable manner.
Goals
Employees understand and comply with the Corporate Governance and Business Code of Conduct
Zero complaints related to violation of the Business Code of Conduct in 2021
All employees signed acknowledgement in the Corporate Governance and Business Code of Conduct Handbook in 2021
Business Code of Conduct
GGC holds the intent to operate in compliance with corporate governance principles with transparency, integrity, and responsibility towards shareholders and stakeholders. We thereby adhere to the Corporate Governance and Business Code of Conduct as well as the Compliance Policy including international business operations standards in order to reduce risks from incompliance and maintain the company's image and credibility for all groups of stakeholders.
GGC has published the Corporate Governance and Business Code of Conduct Handbook to communicate the company's best practices and encourage alignment in business operations. GGC has also carried out activities to create knowledge and understanding on corporate governance and raise awareness among executives and employees in order to enable compliance. In 2021, 100% of employees received communication on anti-corruption policy through the Corporate Governance and Business Code of Conduct Handbook.
Anti-Bribery and Anti-Corruption
GGC has announced the implementation of the Anti-Bribery and Anti-Corruption Policy and Guidelines. We also support and encourage employees at all levels to have awareness of all forms of corruption. Furthermore, GGC is conscious of the gravity of laws pertaining to anti-money laundering and counter terrorism financing. Therefore, GGC has defined guidelines to prevent the company from becoming a tool in money laundering or terrorist financing.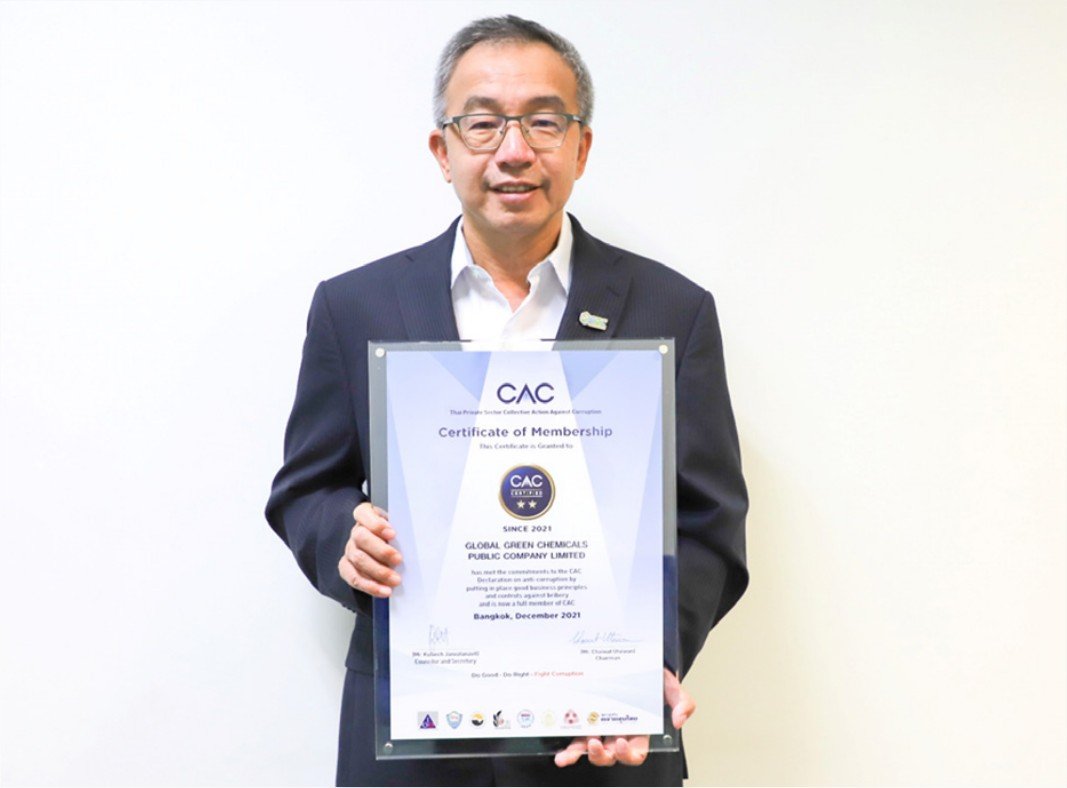 Thailand's Private Sector Collective Action Against Corruption (CAC)
GGC's membership to the Thailand's Private Sector Collective Action Against Corruption (CAC) has been renewed for another 3 years after joining the CAC in 2017. In 2021, GGC assigned executives and employees at all levels to participate in the project to assess corruption risks that may occur in the government sector according to the project's rules in order to implement the assessment results to define control measures to mitigate and reduce corruption-related impacts in all activities. GGC has plans to expand operations by encouraging affiliated companies to join this project in 2022 to raise awareness and strength in transparent operations and to operate businesses without corruption.
Project to Promote the Role of Executives and Employees in Anti-Corruption
Committed to the fight against corruption, GGC has organized a training program for 60 executives and employees to reinforce stability and transparency in our operations. GGC has invited representatives from the Thai Private Sector Collective Action Against Corruption (CAC) to give lectures on the correct and complete prevention of corruption. The lectures contained a variety of topics, including causes of corruption, corruption prevention and highlight case studies.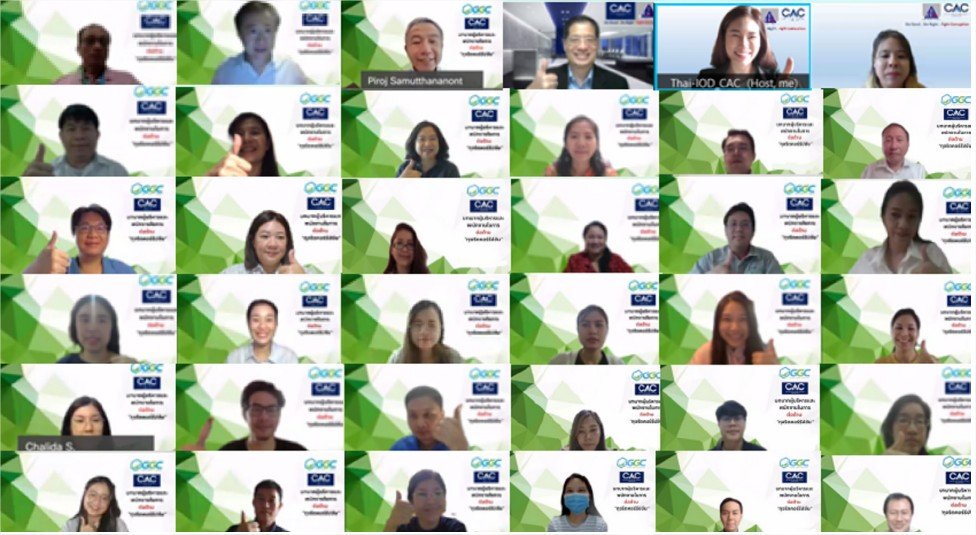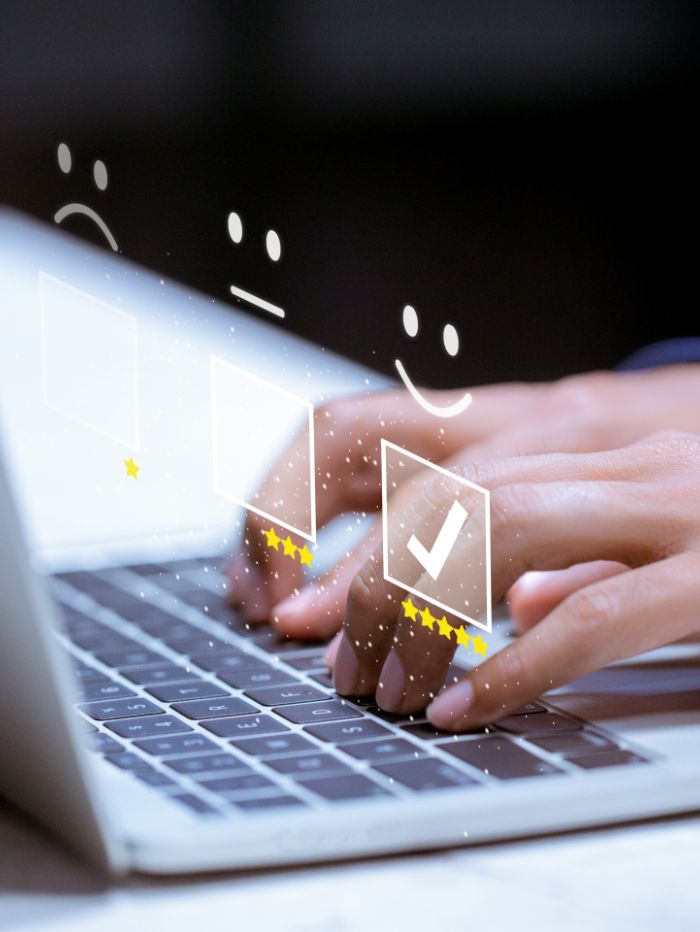 Whistleblower System
GGC has formulated the Whistleblower Policy to encourage complaint submissions when inappropriate behavior or violation of the company's Code of Conduct is found. The complainant can submit documentary evidence for consideration to the company's whistleblower channels. All complaints and data of the complainants or related witnesses will be classified and protected to prevent bullying during and after investigations.
In 2021, the Board of Directors reviewed, amended, and approved the Whistleblower Policy with the objective to create greater clarity on all issues of relevant stakeholders and in accordance with the company's Corporate Governance Policy.
Whistleblower Procedure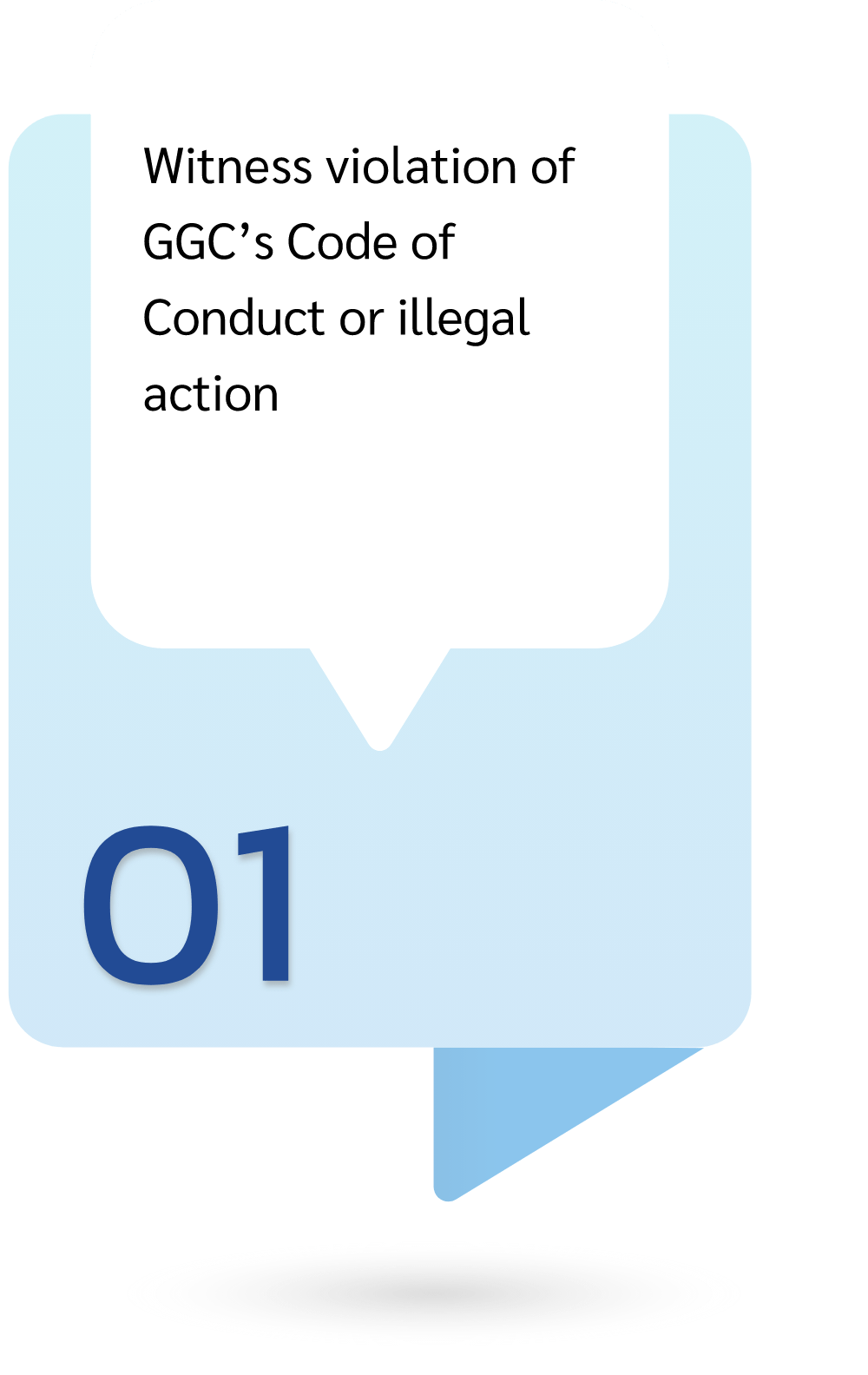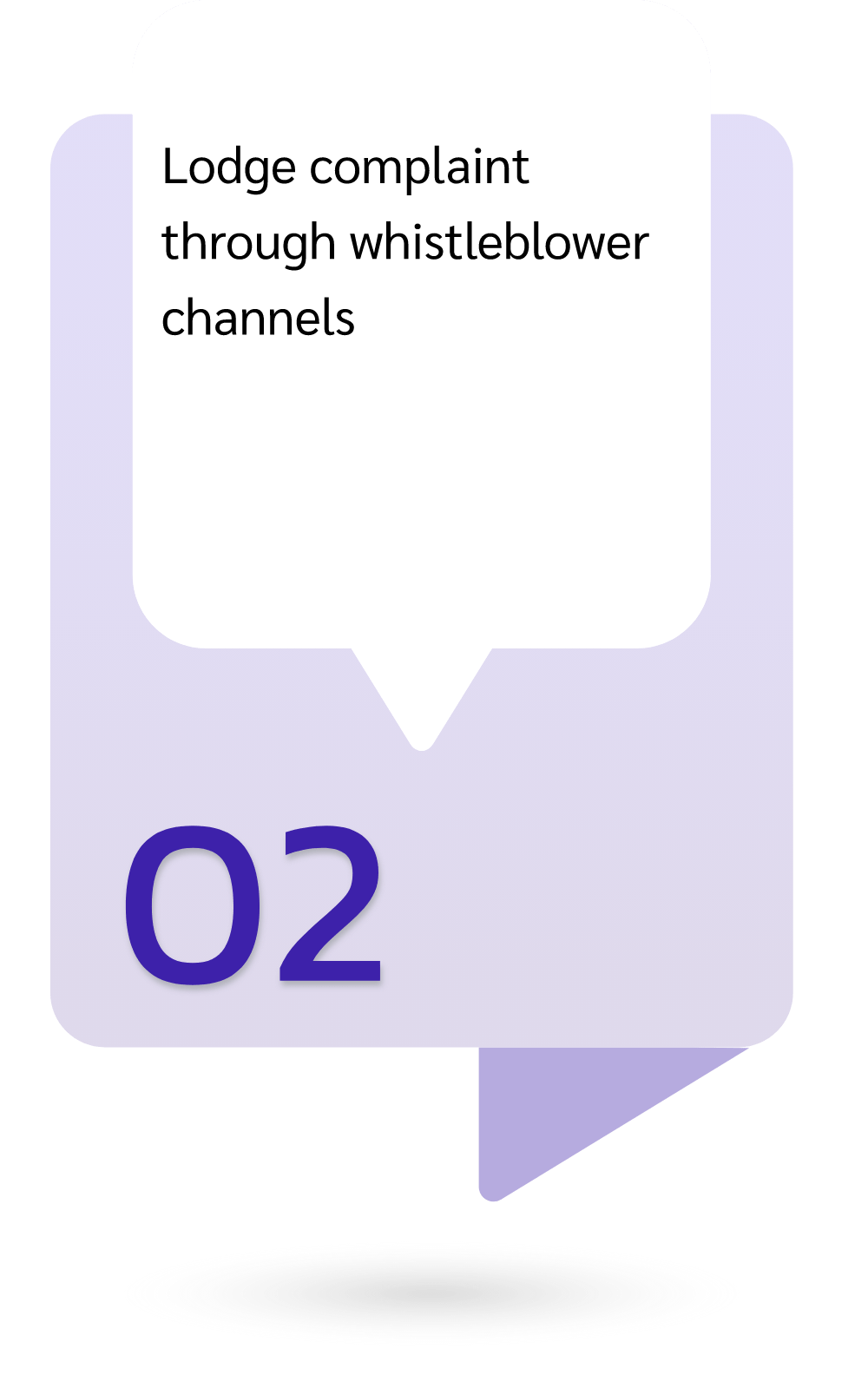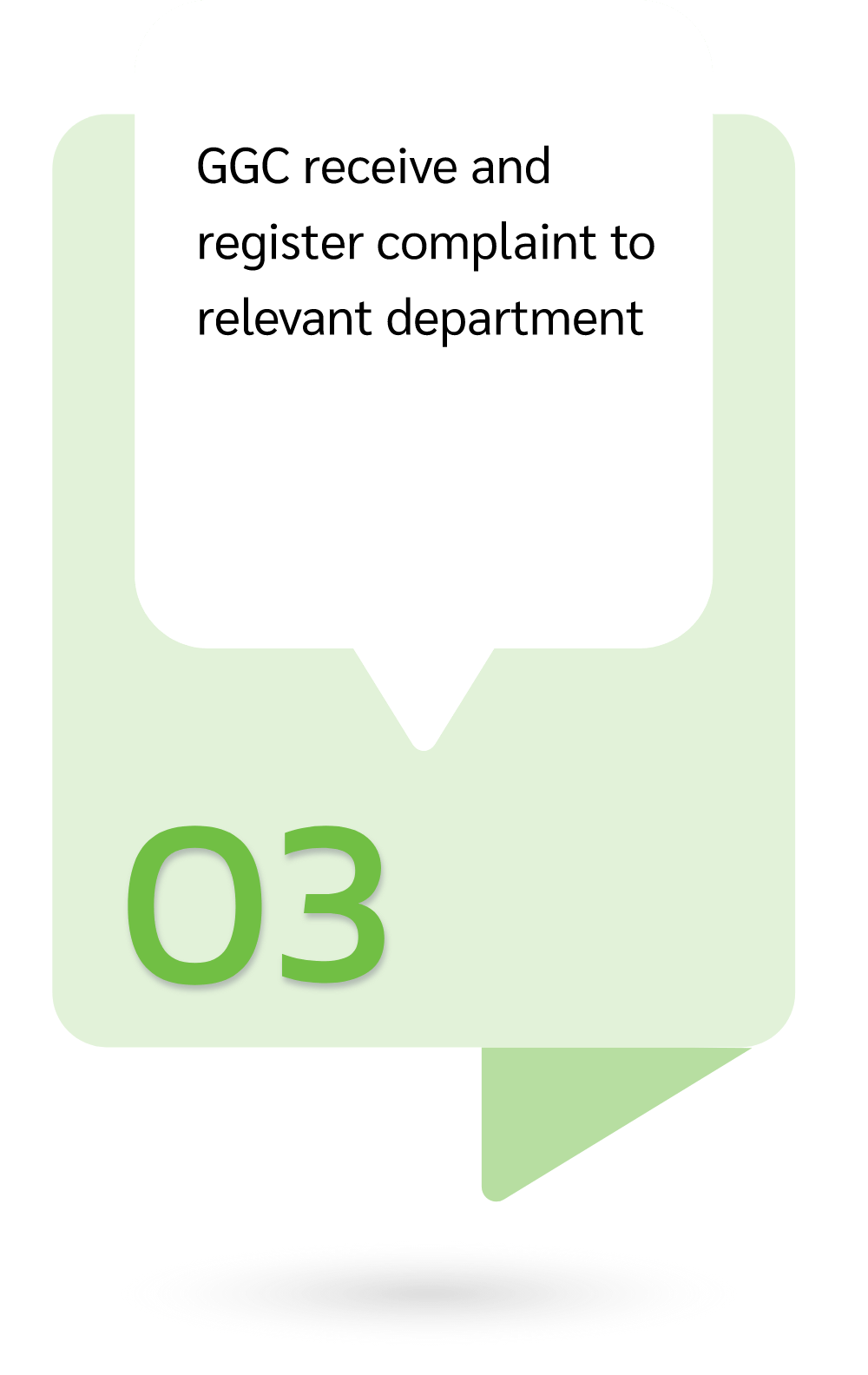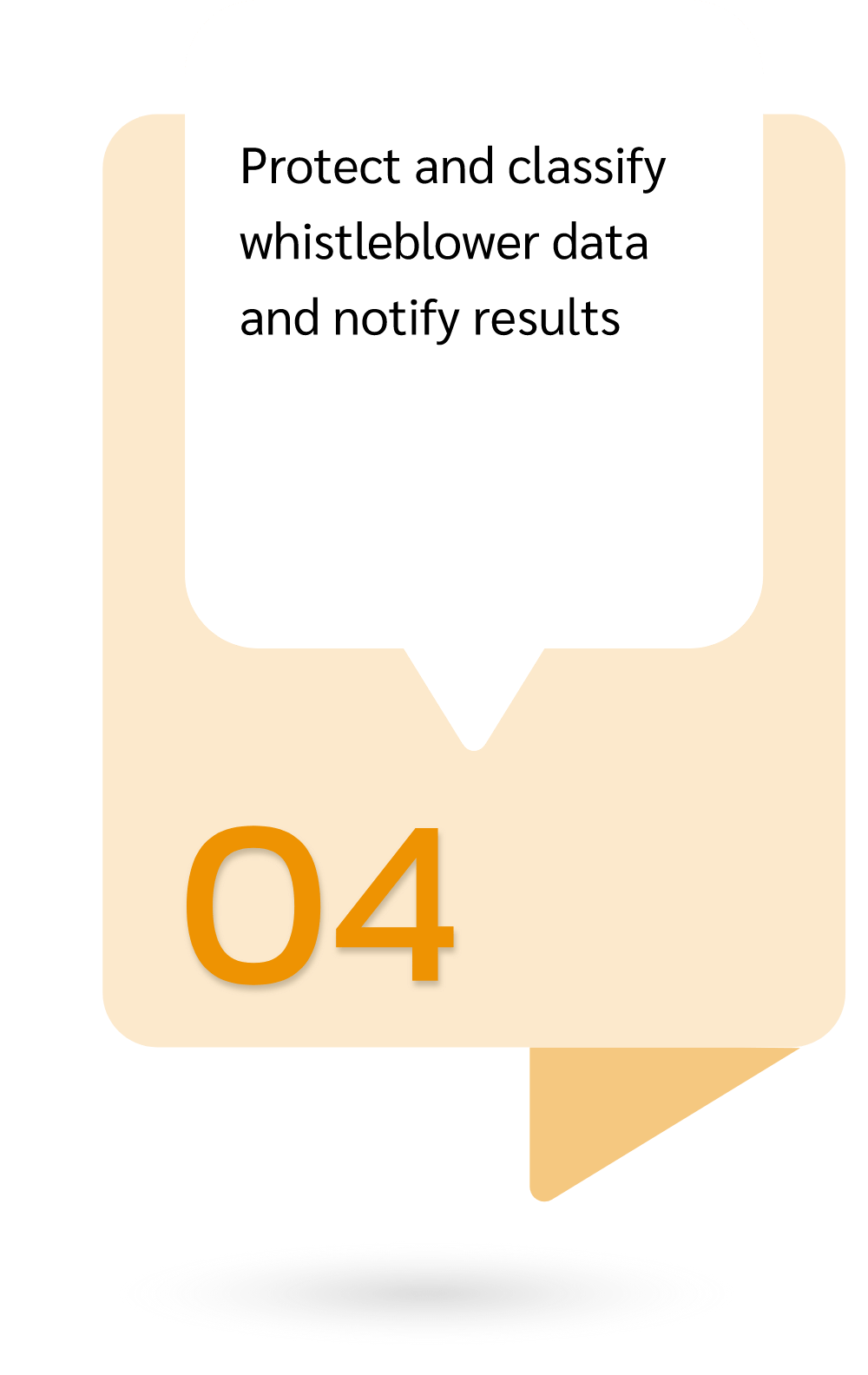 Whistleblower Channels
In 2021, GGC has disclosed the number of whistleblowing cases:
Type of Complaint (Case)

2018




Confirmed

2019


Confirmed

2020


Confirmed

2021

Reported

Investigated

Confirmed

Fraud (1)
1
0
0
0
0
0
Conflict of Interest
0
0
0
0
0
0
Incompliance
0
0
0
0
0
0
Breach of Competition Law
0
0
0
0
0
0
Total
1 (2)
0
0
0
0
0
Note:
(1) Bribery and corruption are included in fraud
(2) Investigations on the inventory shortfall incident in 2018 are still ongoing. More information is available in the Integrated Sustainability Report 2018 and 2019.